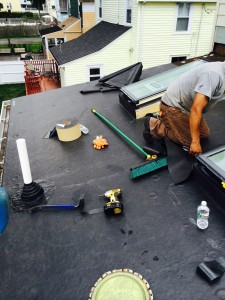 In addition to traditional pitched roofs, Burke Roofs also installs and maintains flat roofs for customers in the Greater Boston area. Whereas pitched roof are built with an incline, flat roofs are almost completely level, and are commonly used in traditional or classic architecture.
Flat roofs consist of two layers: an under layer and a top coat, and are constructed using a combination of PVC, asphalt, tar, thermoplastic, or rubber.
Flat roofs can offer several advantages for homeowners. The most obvious advantage is that they are easier to walk around on and maintain in the event that they require maintenance. Flat Roofs are also easier to customize in terms of painting.
Quite often, flat roofs can be a more affordable option than other types of roofs, and many argue they add aesthetic value to a home.
If you live in the Wakefield or Boston, MA area, and are interested in learning more about installing a flat roof on your home, please contact us today!